Home
>
News & Events
>
Get to Know Our Social Worker, Mary Ellen E. Groves, LCSW in honor of Social Worker Month!
Get to Know Our Social Worker, Mary Ellen E. Groves, LCSW in honor of Social Worker Month!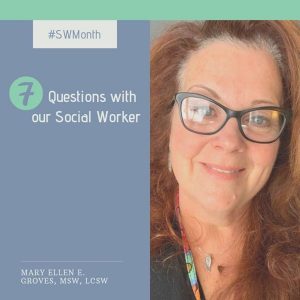 In honor of Social Worker Month, we would like you to get to know our dedicated social worker, Mary Ellen E. Groves, LCSW, MSW who is part of our family here at Cedar View. We were able to sit with Mary Ellen and ask her 7 questions and invite you to read her interview below:
1. Briefly describe what you do all day.
A. I perform work that helps patients/residents regain their life known to them prior to their bout of illness. This requires that I explore prior services and analyze what services may be available to them when they go back home. This task requires that a great deal of networking is performed to secure that there is support for them upon returning to the community.
2. What is the best thing about being a social worker?
A. Offering others, the opportunity to live their best life possible, as well as paving the road to aid them to go beyond wherever they could have imagined.
3. What do you like to do when you're not at the office?
A. I enjoy spending most of my time outside, either hiking, kayaking, camping, building campfires and being in the elements. I also enjoy spending my time with my family and keeping life simple. I train in a Martial Arts and love this form of exercise. I have been training in Tae Kwon Do for 11 years. I am a Reiki practitioner and very spiritually based, I gather a great deal of energy from these practices. I have two children who I love dearly and two dogs who are my other children now.
4. What inspires you?
A. Being in the elements, watching a sunset or sunrise as I meditate. Remembering everyone is here for a reason and all are a teacher.
5. If you could pick one superpower, what would it be?
A. Create Peace on Earth/Abolish evil.
6. What is the song title that best describes your personality?
A. 100 years by Five for Fighting.
7. What are six words or less of advice for others in your profession?
A. Never underestimate the impact your life has on another. Carry your life torch high and shine bright.